OK!  So where has Brother Jay been since March?  I was on dialysis for three months.  But my kidney function improved.  It's not perfect, but it works.  Doctor says I may need dialysis in the future, but not for now.
I miss the people in the dialysis center.  You get the same people scheduled at the same time, after a while you become family.  The patients were very nice.

What can I say about the staff?  Nurses, technicians, doctors and administration were the most delightfully people I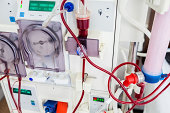 have ever had the pleasure of meeting.  Best of all, they knew what they were doing, and everyone walked by and greeted you.  For me, it was an example of Christian service.
Let's stop and think how often we lose our patience with a spouse, a child, an older parent, or a disabled family member.  Do we remember that Mary, the Mother of the Lord, did a charitable act going to Elizabeth, even though she was pregnant too?  Read the Magnificat in Luke's Gospel.  Mary begins saying, "My soul magnifies the Lord and my spirit rejoices in God my savior."  She doesn't begin the conversation telling E
lizabeth how tired she was.  Riding on camels and donkeys, up to the highlands of Palestine was not an easy trip.  Then there was always the fear of highway robbers.  We never hear Mary complain.  However, let us not confuse meekness with weakness.
Going back to the dialysis center, the staff was very meek and gentle, but when they had to be demanding with the patients, they could be very straightforward, without being rude or authoritarian.  They often gave the patient a choice between A and B, explaining the risks involved in both choices.  They stepped back and let you discern what you wanted to do.  Every choice had to be explained.  You couldn't choose A because it sounded better than B.  You were expected to explain why you believed A was better than B for you.
Let's go back to the Mother of the Lord.  When Jesus was 12-years old, he, Mary and Joseph made a family pilgrimage to Jerusalem.  On the third day of the return trip, Joseph and Mary realize that Jesus was not with them.  They retrace their travels back to Jerusalem, hoping to find him.  When they find him, something very interesting happened.
It is not Joseph who asks Jesus to explain himself, which would have been his right as the patriarch of the Holy Family.  It was his mother who spoke up.  This was at a time in Jewish history when women didn't speak before their husbands.  They certainly could not walk freely around the temple.  Certain parts were off limits to women.
Mary does not concern herself with man-made laws.  She was a mother, concerned for her son.  When she finds him, her dialogue with him is not as poetic as her dialogue with Elizabeth.  She said, "Why have you done this to us?  Don't you know that your father and I have been looking for you for three days?"
Mary is very firm with her son.  She wants an explanation; but she does not raise her voice or humiliate Jesus to release their anxiety or vent their anger.  She simply laid out the facts.  When Jesus responded, she didn't quite understand his response.  "Don't you know that I am about my Father's work?"  Then he went and was obedient unto them."
Granted, we're not all are Mary and Joseph and not every child is Jesus, but the lesson remains applicable.  A truly caring person, whether it's a parent or a nurse, kno
ws the difference between being clear and firm, and being punitive and unwilling to listen to the other person.
In both scenarios, Mary models for us what I call "grace filled behavior."  She doesn't complain about her trip from Nazareth to Elizabeth's.  She acknowledges that all the good that has surrounded her during her entire life, comes from God.  She doesn't assault her son with questions and whining about the fear they experienced.  This would be very typical of us.  She asks him what she wants to know.  When he answers, she acknowledges that it's a reasonable response and says nothing more.  She treasures these things in her heart.
The people that I met at the dialysis center, often reminded me of Mary.  I took every opportunity to let them know.  Most, even the Catholics, don't connect the dots between the life of Jesus, Mary and Joseph and their lives today.  Humanity does not change as quickly as technology and fashions do.
When Mary plays a role in our lives, meaning that she's not just a holy woman whom we crown every year in May and place her in a manger at Christmas, we experience how real she is in our lives.  She is alive in body and soul, always near us, hoping that we call on her to teach us meekness and firmness or strength, without the shouting, insults, complaining, and punishment that can often do incredible damage to a relationship between two people.